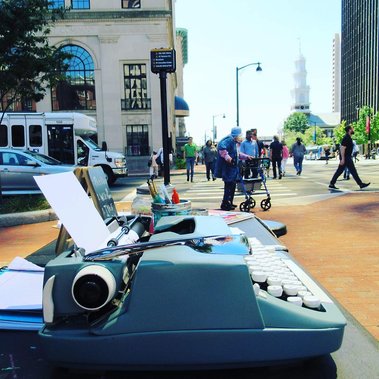 Poetry on the Streets, LLC
Everyone has a poem inside. Everyone has a story.
Founded and created by writer/teaching artist, Melanie Pappadis Faranello in 2017.

Poetry on the Streets' (POTS) is a public art project designed to engage communities in creative self-expression, connect people through the poetry of everyday life, and share the words of people from different walks of life to promote compassion and greater understanding of one another.
POTS initially set up in public spaces such as bus stops, street corners, parks, engaging passersby to write spontaneous poetry based on a human emotion word, and it has continued to evolve through community engagement and collaborations, providing spaces for self-expression and connections.
Poetry on the Streets has received recognition from National Arts Strategies as being chosen for their Creative Community Fellows program, and The Pollination Project, who supports global leaders in support of social change, and appeared on NPR, as well as in other publications.
About Melanie Faranello
On the Street: Set up on a street corner, at a bus stop, in a park with my Smith-Corona vintage blue typewriter, a jar of words, and some watercolor paints, I never know what to expect or who I will meet. Some approach Poetry on the Streets with trepidation; others dive right in; some decide to trust a stranger and take a risk. But every time, people express feeling better after writing their poems. People connect, share things they've never told anyone, laugh, cry, tell stories of their pasts, dreams for their futures. Many surprise themselves at their abilities and reflections. People write in their native languages; they write to one another, to long lost friends; they write for themselves. They take it with them or they leave it behind for others to read. Many who've never written a poem, or say they can't, do. Each encounter, pausing to express, create, connect, changes something. And then we go on our way a little lighter.
POTS PROJECTS:
The Poetry Bus A CT Transit public bus wrapped in kids poetry. Connecting poetry + transit and empowering young writers, Spring 2021
Empty Storefront Exhibit: Revitalizing empty storefront space "Poetry on the Streets Hartford Speaks" exhibit showcases peoples poems and photographs, Fall 2021
Gallery Show: Over one hundred poems alongside the people's photographs at Charter Oak Gallery in Hartford, CT in Jan. 2020.
Essential Voices from the Pandemic 2020-2021: Providing a platform for expression in response to COVID-19. Work from this initiative also was displayed at Work_Space Gallery Show "Perspectives from a Pandemic"

Youth Poems Incorporated into a Public City Mural
The "Poet-Tree": Wishes and Dreams/ Concept of Home
Public Banner using intergenerational community poems on MLK's Principles of Nonviolence
*Click on Tabs for more info.
For updates on POTS, follow Instagram @poetryonthestreets and FB @poetryonthestreetsPOTS
My Story Matters- Teens
A creative writing workshop for teens. Poetry, short stories.
Senior Voices
A poetry writing workshop for seniors based on the book "I Never Told Anybody" by Kenneth Koch.
Where I Come From
A storytelling workshop for immigrant families: parents, grandparents, or caregivers, with their children.
Where I Come From
A storytelling workshop for immigrant families: parents, grandparents, or caregivers, with their children.
Writing for Community Groups
Various custom designed workshops for various groups in the community including city workers; healthcare workers; veterans; corporations; schools; universities...
Yoga + Writing
For all abilities, gentle yoga movement combined with writing to release true creative expression
Say Hello
use this contact form or send an email to poetryonthestreets@gmail.com
Speaking Engagements
I'm also available as a guest speaker to come to university classrooms, schools, conferences, groups, etc...to discuss Poetry on the Streets, a public art project engaging people in storytelling and creative expression.
If interested, please contact me above for more info.