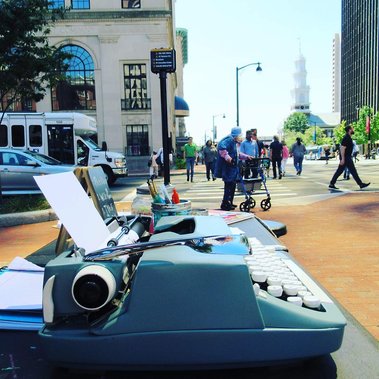 Poetry on the Streets, LLC
Everyone has a poem inside. Everyone has a story.
Founded and created by Melanie Pappadis Faranello in 2017. Poetry on the Streets engages communities in creative self-expression, connects people to the poetry of everyday life, and brings people's words into public spaces to create social impact.
Poetry on the Streets (POTS) original form was bringing a manual typewriter into public spaces, such as bus stops, street corners, parks, and engaging passersby to stop and write a poem based on a word chosen from a "jar of emotions." POTS has continued to evolve through community engagement and collaborations, providing spaces for self-expression and connections, highlighting voices across the globe.
Poetry on the Streets has received recognition from National Arts Strategies as being chosen for their Creative Community Fellows program, and The Pollination Project, who supports global leaders in support of social change, and appeared on NPR, as well as in other publications.
About Melanie Faranello , writer and teaching artist
Recent Projects
POTS + Child Shield Initiative in Nigeria see YouTube video here (see more under Global Projects tab)
The Poetry Bus A public transit city bus wrapped in poetry written by youth about freedom, equality, and peace. Connecting poetry + transit and empowering young writers, Spring 2021; Public Murals incorporating MLK's Principles of Nonviolence and youth poetry on city walls; Empty Storefront Exhibit: Revitalizing empty storefront space showcases people's photographs on the street with their poems about human emotions, Fall 2021 Gallery Show Over one hundred poems alongside the people's photographs 2020. ; Essential Voices from the PandemicEssential Voices from the Pandemic Providing a platform for expression in response to COVID-19. Work from this initiative also was displayed at Work_Space Gallery Show "Perspectives from a Pandemic"; Many more Community Workshops and Engagement;
POTS Workshops
Creative writing for community- city workers, veterans, healthcare workers I Teen Voices I Senior Stories I Story exchanges I Global story exchanges and poetry workshops I Creative writing for youth I Speaking engagements/presentations on POTS
Follow POTS on Instagram and Facebook for more info or send an email for inquiries